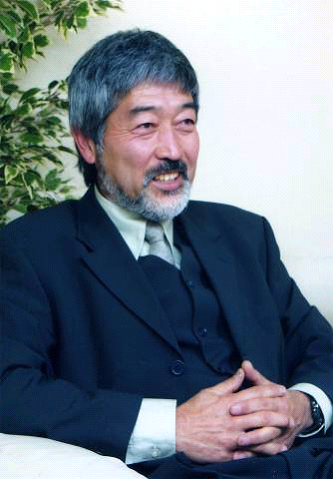 Multi award-winning Japanese garden designer Koji Ninomiya will fuse traditional Japanese-style garden design with contemporary influences in his garden at next month's Ellerslie International Flower Show.
The designer, who has judged at the Ellerslie International Flower Show for the last decade, says he is excited about designing his first exhibition garden in New Zealand.
The garden is sponsored by Four Leaf Japan, a Japanese company which manufactures in New Zealand health food products for export to Japan. A key ingredient in the supplements is blackcurrants grown in the Waipara Valley where Four Leaf Japan has donated $200,000 during the last four years to the Greening Waipara Project.
Koji is one of two international designers exhibiting at this year's Ellerslie International Flower Show. The other is multi award-winning English designer Chris Beardshaw.
Sei Sei Tei II is based on a traditional dry Zen garden. "Water is the symbol of life and is most important in a Zen garden. In my garden, it will be represented by sand in a wave pattern. It will cascade down a waterfall into a stream, flowing through the garden into a pond or sea, depending on what the visitor sees."
Aged stones will lead across the garden, passing by a simple wooden structure representing the traditional Japanese tea house, and across the "water" to the rear of the garden.
Koji says in keeping with traditional Zen gardens, the wooden structure will be simple in its design and clad in natural materials.
Japanese maples, bamboo and conifers will be included in the vegetation, the lush, rich-coloured foliage wrapping around the back of the garden.
Koji says the challenge will be blending the two styles in the one garden. "Sei Sei Tei II needs to achieve that delicate balance of honouring the key principles of a traditional Zen garden design – a simple, quiet place for meditation – while at the same time ensuring the garden meets the needs of today's modern lifestyle; most importantly, the garden must have harmony."
Koji, who owns and operates his own perennial plant and garden design business in Japan, has been competing and judging internationally for more than 15 years. He designed his first international garden in 1995 at the Chelsea Flower Show, the Honda Tea Garden which won gold. He was the first Japanese to compete at Chelsea.
His last exhibition garden at the Melbourne Flower and Garden Show in2008 won both gold and Best in Show.
Koji says if he can win gold at Ellerslie it will complete his trio of gold medals from the world's top three flower shows.