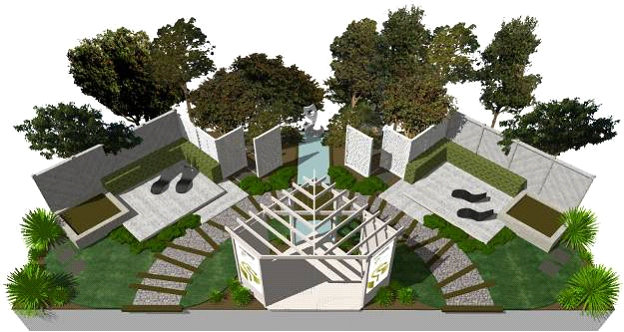 Visitors to this year's Ellerslie International Flower Show will be able to watch some of New Zealand's best landscapers being put through their paces in The Great North and South Landscape Build-off.
Organised by Landscaping New Zealand, the North Island and South Island landscaping competition is a garden of two halves, separated by the Cook Strait (a water feature) which showcases the value of design, best trade practices, garden management and good environmental landscaping practice.
Landscaping New Zealand President Bill Holden says two teams, one each from the North and South Islands, will compete to build a mirror image garden at Ellerslie with the emphasis on using "local materials for local projects" and to highlight the high quality workmanship of its members.
A Sense of Place is the theme for the 20m x 10m exhibition garden which visitors to the show will be able to watch being developed during the first two days of the Show, The gardens will be judged on the Friday – 12 March – by television Mucking In celebrity Tony Murrell, international Convenor of Judges Robert Hillier and Mr Holden.
"The two teams are given the freedom to use whatever materials and plants they want to create their garden and despite the design for both being a mirror image, the end result for each is expected to be something quite different."
Mr Holden says he expects the South Island garden will have a distinct English cottage look, while the North Island garden could have a sub-tropical look but he is unsure of exactly what the two teams will come up with.
Landscaping New Zealand, the new name for LIANZ (Landscape Industries Association of New Zealand), is hosting the event at Ellerslie to raise public awareness of the new brand and the workmanship of its members.
"The Great North and South Landscape Build-off is about promoting sustainability and encouraging homeowners to opt for local materials, rather than imported products, when landscaping to keep our carbon footprint low.
"For an example, using schist in a Northland garden when there is alternative local stone is out of place from a philosophical perspective. Schist does not give the garden an honest sense of place."
The North Island team is lead by Chelsea Flower Show Gold medal winner Trish Waugh from Katikati and Ray Vermey from Wellington. Other members of the team are Jon Muller (Wellington), Stuart Dennis (Rotorua) and Darren Barrett (Auckland).
The South Island team is lead by John de Jong (Nelson) and Arne Cleland (Gore). Other members are Jaime Baldwin (Nelson) and four Christchurch landscapers, Zane Lowe, Haden Dawkins, Craig Thomas and Julie-Anna Wait.